Metro Vancouver & Fraser Valley BC Fishing Report
By Rodney Hsu, Fishing with Rod | Last updated: June 29th, 2021
Our latest episode features trout fishing at Lundbom Lake, as well as other lake fisheries around Merritt. These fisheries are very accessible and can be very productive during the spring months, making them perfect for weekend trips from the Lower Mainland.
This heat wave is making fishing a little uncomfortable so be sure to hydrate, or stay indoors for the time being. Safety first, fishing can always wait. Capilano River has been producing coho salmon as expected for this time of the year. Chilliwack River will open on July 1st for its chinook salmon fishery. Skagit River will also open on July 1st. Local lakes are slowing down due to the heat wave. Bass and carp fishing should remain excellent throughout this summer.
For daily updates, please follow us on Facebook and Instagram.
Capilano River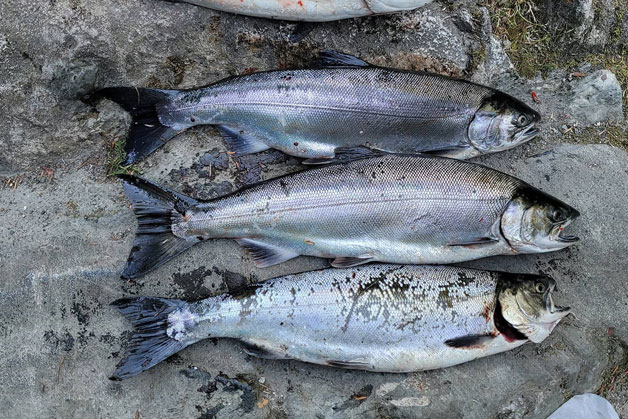 Capilano River has been quite good for coho salmon fishing. This early run of coho salmon usually peaks around late June or early July, depending on the river level. Most of the fish are in the 1 to 3lb range, perhaps a little bigger at times. Float fishing with freshly cured roe works best, but you can also fly fish for them with a small streamer, or casting and retrieving spoons and spinners. The key is to be at the river really early in the morning, before sunrise. With the hot and sunny weather at the moment, fishing generally dies down really quickly once the sun is up.
Please remember that ALL steelhead, both wild and hatchery fish, have to be released in this river system. There are very few steelhead returning to the Capilano River so please release these fish with great care.
Ambleside Beach
Between the mouth of Capilano River and Ambleside Beach, you have a good chance of catching a coho salmon from now until August too. If the level of Capilano River stays low, most of the fish will stage and feed at the river mouth. Early morning is generally most productive. If there is a low tide coinciding with dawn, then that's even better. Casting small jigs such as a buzz bomb, or spinners, would entice the odd fish to chase and grab your lure. Fly fishing also works great if fish are schooling close to shore.
Stave River
Stave River is quite quiet during this time of the year compared to the fall salmon fishing season. This does not mean there are no fish in the system. There are coastal cutthroat trout, mountain whitefish, northern pikeminnow and peamouth chub feeding on salmon fry, insects and other invertebrates throughout the summer months. This is a good place to take your kids out and float fish for them with bait. Bait which works well include dew worm, shrimp and single eggs.
The closest store to Stave River is Hatch Match'r Fly and Tackle in Maple Ridge. This is your best one-stop shop on the North side of Fraser Valley. New owner Nick and his staff are always happy to help you, whether you are a beginner or a seasoned angler. They are open seven days a week. They also have ongoing seminars for both novice and experienced anglers.
Squamish River
Squamish River is quiet during this time of the year. Catch and release for rainbow and bull trout is available if conditions are good.
For more information on the Squamish River and other fisheries in the Sea-to-Sky corridor, visit Pacific Angler in Vancouver.
Chilliwack River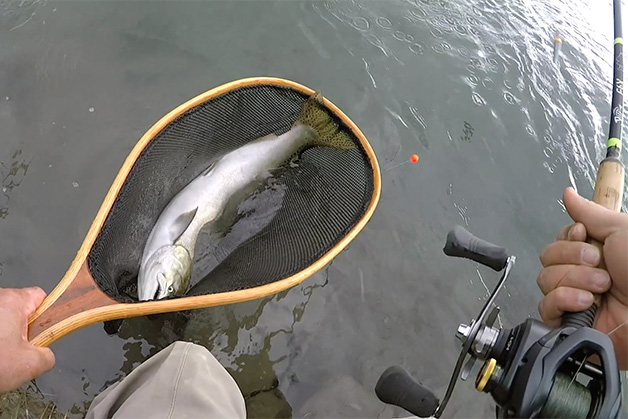 Chilliwack River has been closed to fishing throughout the month of June. This is the seasonal closure to protect outmigrating juvenile salmonids as well as winter steelhead kelts. The river reopens on July 1st, and anglers can target summer chinook salmon. This chinook salmon fishery is entirely hatchery enhanced, and can be good throughout the month of July before tapering off in early August. Due to the sun and heat, fishing is usually best really early in the morning around dawn. Once the sun hits the water, fish tend to stop biting. Float fishing with roe works best for chinook salmon.
Please note that there are also sockeye salmon migrating up the river to Chilliwack Lake during this time. These have to be released with care when caught.
There is also a good abundance of hatchery "rainbow trout" in the river throughout the summer. These are in fact juvenile steelhead which were released by the hatchery in early May. Keeping them is allowed, as biologists would like them to be removed from the river if they have not travelled into the estuaries already. This is to prevent any hatchery juvenile steelhead becoming resident rainbow trout which would compete and predate on native wild salmonids. Please ensure that all wild trout are released with care. A hatchery trout can be identified by the absence of the adipose fin.
For more information on the Chilliwack/Vedder River system, be sure to stop by Fred's Custom Tackle in either Chilliwack or Abbotsford.
Tidal Fraser River
Tidal Fraser River is pretty dirty as it experiences freshet until late August. Sturgeon fishing is available and can be done from shore at certain locations. This is a catch and release fishery so please handle these fish with care. Bull trout can also be caught and released by using roe on the bottom.
Coarse fish such as pikeminnow, peamouth chub, largescale sucker, redside shiner are also very abundant in the tidal portion of the Fraser River during this time of the year. You can catch them by fishing with a variety of bait near the bottom. Dew worm, dough balls, shrimp are all good bait to try out. Use a small hook, size 8 or smaller, as these fish tend to have a small mouth.
Check out Berry's Bait and Tackle in Richmond for all your Lower Fraser River fishing needs!
Skagit River
Skagit River reopens to fishing on July 1st. This is a catch and release fishery for rainbow trout and bull trout. Most of the rainbow trout encountered are between 12 and 16 inches in length. A light fly or spinning rod is ideal for this fishery. Bull trout in this river system can get up to 4 to 6lb, these can be caught by either fly fishing with a big streamer or swinging a spoon with a spinning rod. Please note that mosquitoes can be quite active in this watershed so be very prepared by bringing bug spray.
Non-tidal Fraser River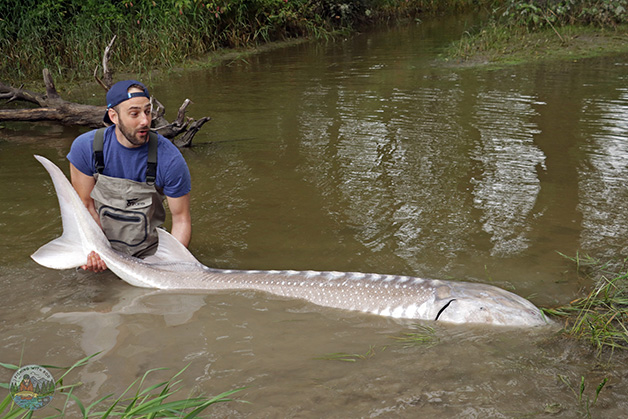 Non-tidal portion of the Fraser River can be good for sturgeon fishing right now. Please be very careful as freshet is happening, the river is dirty and rising, plenty of debris such as large trees are floating down the river. You must be aware of your surroundings at all time. A mishap with the boat can be deadly under these conditions. Best sturgeon bait during this time of the year include lamprey, dew worm, eulachon and pikeminnow. It's best to head out with a licenced sturgeon fishing guide if you have never tried this before. We recommend Lang's Fishing Adventures.
Sumas River
Sumas River between Abbotsford and Chilliwack can be very good for carp fishing at the moment. There are also many other species found in this area, including largemouth bass, sunfish, pikeminnow, chub, shiner and sculpin. This multi-species fishery is an excellent place for family with young kids. Try bottom fishing with dew worm, dough balls, corn, salmon eggs. It is very hot at the moment, so this is an ideal location for evening outings.
Lower Mainland Lakes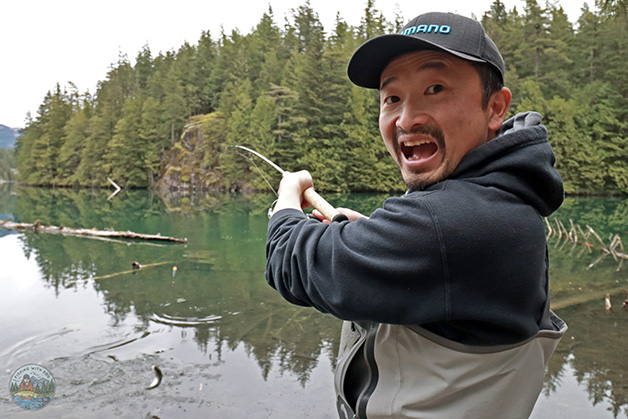 Lakes around Metro Vancouver and Fraser Valley have all been stocked with catchable rainbow trout. These fish average around 250g and can be caught by float fishing or bottom fishing with bait, or lure fishing, or fly fishing. Urban lakes such as Deer Lake, Lafarge Lake, Como Lake, Rice Lake and Green Timbers Lake are ideal for those who rely on public transportation. Lakes further out in the Fraser Valley to try out include Mill Lake, Buntzen Lake, Sasamat Lake, Rolley Lake, Hicks Lake, Grace Lake and Weaver Lake. Because of the heat wave, shallow urban lakes are no longer that productive except perhaps the evening times. In bigger lakes where water is deeper at places, fishing can still be very good.
These articles may assist you:
Kawkawa Lake's kokanee fishery has been productive. The average size of these kokanee is 12 to 14 inches long, but you can encounter the odd 16 and 18 inchers at times. You can troll for them, but the best method is anchoring up and bait fish near the bottom. Use your fish finder to mark fish and find depths which are around 40ft. A boat is definitely required for fishing at this lake. Best bait for kokanee are krill, shrimp, single eggs, corn. You can also jig for them by using a small spoon.
Cultus Lake has warmed up quite nicely. Largescale suckers can be seen feeding in the shallows, and it's easy to catch northern pikeminnow now. In recent years, smallmouth bass have been discovered at this lake and anglers are now targeting them. Majority of these fish are in the 1 to 2lb range but fish up to 4 or 5lb have been reported. They can be caught from shore. Jigging with a dropshot rig, dragging a tubebait, or retrieving a crankbait are the go-to methods for these smallmouth bass. For boat anglers, most of the fish have been caught in the 8 to 12 feet depth range.
Jones Lake near Chilliwack is a good location to target stocked cutthroat trout. These cutthroat trout can get up to 2lb large. There is also a high abundance of smaller rainbow trout in this lake. Access to the lake can be difficult, vehicles with 4X4 are needed. Launching a boat can be difficult at this lake too. Be prepared.
Alta Lake in Whistler is also stocked with cutthroat trout and fishing can be excellent throughout May. Check out this video. Now that the weather is warmer, fish are most likely found in slightly deeper water, or you can focus the shallow parts in the evening hours.
Ross Lake reopens to fishing on July 1st. This can be a productive spin or fly fishery for rainbow trout and bull trout.
Squamish area also offers some good lake fishing opportunities. Check out Browning Lake, which has been stocked with catchable rainbow trout as well. Alice Lake and Brohm Lake both have smaller trout in them.
Please remember that for lake fishing, if you are fishing from shore, you are only allowed to use ONE rod. If you are fishing alone in a boat, then you are permited to use two rods. Only one hook is allowed on your rod. Please note that single barbless hooks are required to be used at some lakes. You should note the daily quota of trout for the lake where you are fishing. Catch and release is required in some lakes, please check regulations.
Before heading out, please read the freshwater regulations in Region 2 first. For more regular updates, make sure you follow our Facebook page. If you witness violations, please contact the nearest conservation office or phone 1-877-952-RAPP (7277). Conservation officers can not attend all calls, but they do their best to catch those who do not choose to play by the rules.
Good luck and please conserve your catches!
Rodney Hsu
Webmaster, Fishing with Rod Production