Metro Vancouver & Fraser Valley BC Fishing Report
By Rodney Hsu, Fishing with Rod | Last updated: March 8th, 2021
Here is an episode from our trip to Kyuquot Sound last summer! We were targeting chinook salmon on the last day of our visit with Dave Murphy, owner of Murphy Sportfishing. If you are interested in booking this trip, limited openings are available from late June to early September. More information...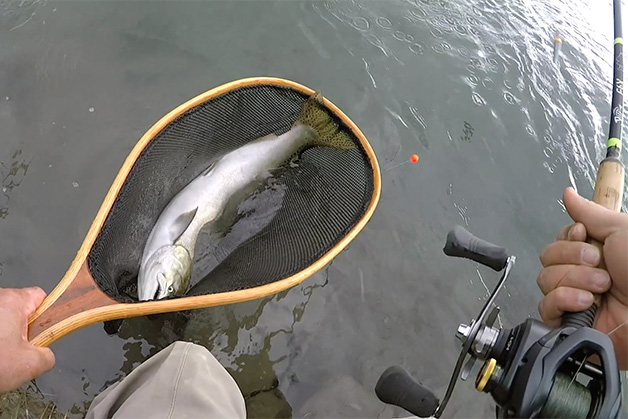 It is hard to believe that winter is almost over! The weather in March has been very pleasant here in the Lower Mainland as it usually is. Winter steelhead fishing is in full swing, while lake fishing is just starting to pick up due to both new stockings and more active fish. Salmon fry are emerging, meaning good coastal cutthroat trout fishing can be expected. With spring break ahead of us, there are many different options to choose from.
For daily updates, please follow us on Facebook and Instagram.
Capilano River
Capilano River is very quiet during this time of the year. There are some winter steelhead returning but this is a tiny run of fish. ALL steelhead, including hatchery fish, have to be released with care when caught. It is best to avoid fishing for them overall. Capilano River usually has an early run of coho salmon. While the peak of this early run is in late June and early July, the odd fish in fact make their way into the system in April.
Stave River
Stave River is generally pretty quiet throughout the winter months, but it comes alive in March and April when juvenile salmon emerge from their redds. Chum and coho salmon fry are most common in the river during this time of the year. Because of their presence, coastal cutthroat trout are attracted to the area as they actively feed on these fry. We no longer have an active hatchery cutthroat trout program in the Fraser Valley, but there still are some stocked fish from a couple of years ago. Majority of the fish are wild cutthroat trout, which can be identified by the presence of their adipose fin. These have to be released.
Coastal cutthroat trout are aggressively feeding on salmon fry, so try either casting and retrieving a small spoon if you are spin fishing, or use a minnow pattern if you are fly fishing. These fish are typically between 1 and 2lb, so a light spinning outfit or a 4 or 5wt fly setup is ideal.
Beside cutthroat trout, you may also encounter mountain whitefish. These usually stay closer to the river bed. While they might feed on some salmon fry, they mostly feed on nymphs and other aquatic invertebrates close to the bottom. Try float fishing with a variety of nymph fly patterns.
The closest store to Stave River is Hatch Match'r Fly and Tackle in Maple Ridge. This is your best one-stop shop on the North side of Fraser Valley. New owner Nick and his staff are always happy to help you, whether you are a beginner or a seasoned angler. They are open seven days a week. They also have ongoing seminars for both novice and experienced anglers.
Squamish River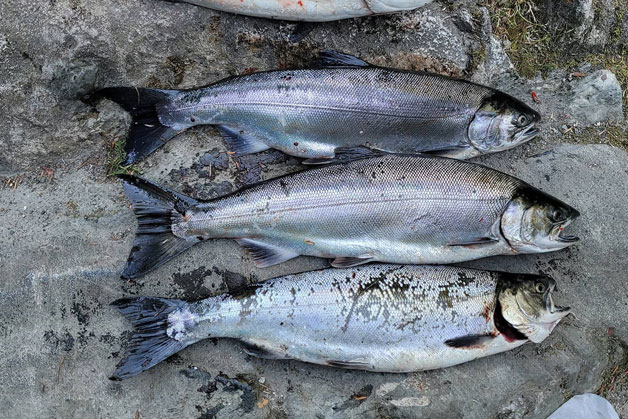 Squamish River conditions have been good overall due to the lack of rain and low daytime temperatures. The odd winter steelhead start to show up in this system in March, but overall this system has a relatively small return of steelhead. Majority of the steelhead are found in the Cheakamus River. In the upper Squamish River, bull trout are commonly caught. These fish are usually feeding on salmon fry but Squamish River has had a poor chum salmon return so we won't be seeing the feeding frenzy which we normally would see. All trout, char and steelhead have to be released with care. There is a bait ban in effect year round for the Squamish River and its tributaries.
Be aware of wildlife in the area while walking or driving. If you intend to access the upper Squamish watershed, please be aware that cel service is not available in this area, and your vehicle should be prepared for all conditions on the gravel road.
For more information on the Squamish River and other fisheries in the Sea-to-Sky corridor, visit Pacific Angler in Vancouver.
Chilliwack River
Chilliwack River winter steelhead fishery has been really good. The return overall appears to be better than previous years and the average fish size is definitely bigger. 10 to 12lb fish have been pretty common, while the largest fish being weighed in at the Wally Hall Junior Memorial Derby is close to 19lb! Fish are now being caught throughout the system, but for the freshet specimens, concentrate your effort in the lower and mid sections of the river. In the upper river, you will now find a mix of newly arrived fish as well as fish which are ready to spawn. Float fishing is the go-to method. Anglers commonly drift pink worm, trout beads, Jensen Eggs, bait such as shrimp and roe sacs. Unlike the coho salmon fishery, first light isn't necessarily the best time to catch these fish. Steelhead are generally aggressive and can be caught throughout the day as long as you place your offering in front of the fish. Quite often, fish are more active after 10:00am as the weather warms up a bit in the morning.
For ongoing updates of this fishery and river conditions, please go to this page.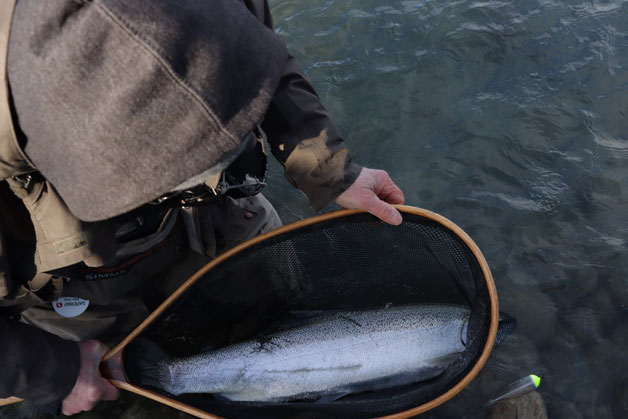 Please consider joining the annual Wally Hall Junior Memorial Steelhead Fishing Derby organized by Fred's Custom Tackle. Proceeds of this derby are donated to the Fraser Valley Watersheds Coalition, which uses the funds to restore fish and wildlife habitat on the Chilliwack/Vedder River. Back in early December, I released this video asking all to participate and our goal is to raise $20,000. I'm happy to say that we have already raised over $25,000, so lets generate some more so we can see more habitat being restored in the river! Check out this video for some background information of the derby.
Tidal Fraser River
Tidal Fraser River becomes a bit more active just before freshet throughout March. As chum salmon fry begin migrating down to the Fraser River estuaries, anadromous bull trout also start actively feeding on them. I find that the best time is when the tide starts going out after its peak. Look for big splashes in the shallow parts of the river around rocks and reeds. These are usually signs of bull trout feeding. All bull trout have to be released with care so it is best to carry a catch and release net while fishing for them. To catch them, you can try casting a spoon or a spinner, or fly fishing with minnow patterns. Fishing in the Fraser River estuaries can in fact be really exciting in the spring. Beside bull trout, you can also encounter several other species including coastal cutthroat trout, or even the odd coho salmon. Check out this article for more information.
There is also an ongoing herring fishery around Steveston throughout the winter months. These Pacific herring move into the estuaries in November and stay around until April as they carry out spawning. Fishing has been excellent. A herring jig is needed and please remember only two hooks can be used on the line.
Check out Berry's Bait and Tackle in Richmond for all your Lower Fraser River fishing needs!
Harrison River
Harrison River can be good for coastal cutthroat trout fishing during this time of the year. Salmon fry are now found in the river so fish are actively feeding on them. Look for surface activities around creek and slough mouths.
Non-tidal Fraser River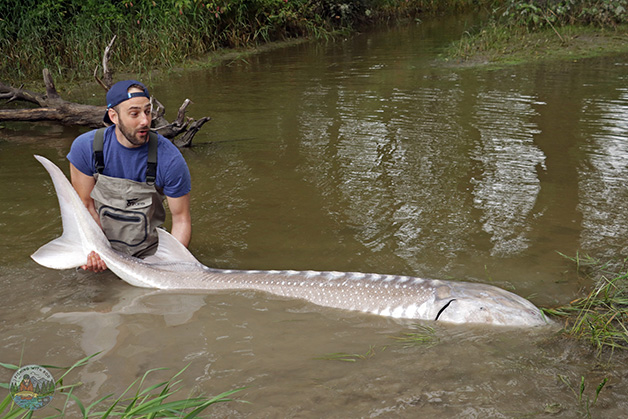 Non-tidal portion of the Fraser River has pretty good water clarity at the moment. Coastal cutthroat trout fishing can be good. Find backwaters, slow portions of the main stem and sloughs where fish are most likely to be found. These fish are not really keying on any particular food items at the moment so lure fishing, bait fishing work well. You can also fish nymphs with a sink tip as most of the feeding is taking place near the bottom instead of close to the surface. With the emergence of salmon fry, more surface activities should appear. Look for these signs to track down feeding fish.
Northern pikeminnows can also be found among cutthroat trout as they love to feed on salmon fry too. Try bobber fishing with dew worm. This is a great fishery for kids.
Sturgeon fishing is available and a lot more doable now with the warmer weather. It's best to head out with a licenced sturgeon fishing guide if you have never tried this before. We recommend Lang's Fishing Adventures.
Skagit River
Skagit River is now closed to fishing until June 30th.
Sumas River
Sumas River between Abbotsford and Chilliwack can in fact be quite good for carp fishing. This fishery usually starts around now, especially when the weather becomes warmer and sunnier.
Lower Mainland Lakes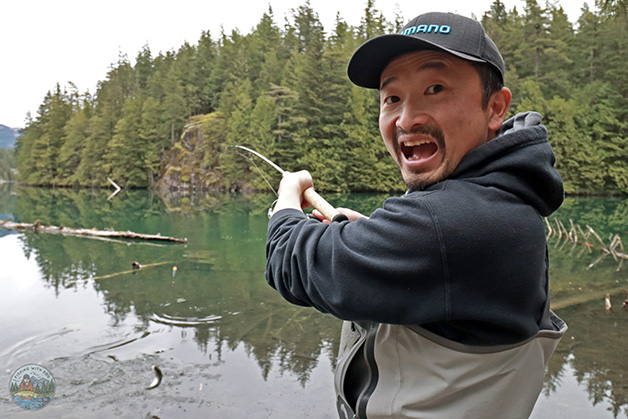 Lakes around Metro Vancouver and Fraser Valley are about to be restocked by the Fraser Valley Trout Hatchery. The lakes are usually stocked right before spring break, with rainbow trout averaging around 250g each. These fish are known as catchable rainbow trout as they are ready to be caught once released. Lakes to try out include Lafarge, Como, Green Timbers, Rice, Mill, Sasamat and Buntzen Lakes. These articles may assist you:
Kawkawa Lake has reopened to fishing and so far kokanee fishing has been reasonably good compared to previous couple of years. A boat is required for this fishery and a depth sounder can really improve your success. You can either troll for these fish or anchor up once marking some fish on your sounder. Most of the fish are schooling right on the bottom in 40ft of water at the moment. There are also cutthroat trout in this lake too, which are normally found in shallower parts of the lake. There are also coho salmon in the lake, which have to be released when caught.
Other more remote lakes outside of the city include Hicks, Grace, Stacy, Jones, Browning, Alice, Brohm are all worth trying. Beside stocked rainbow trout which have survived since last year's releases, these lakes usually have cutthroat trout in them as well.
Cultus Lake may seem like one giant, cold water body, but it in fact offers some good coastal cutthroat trout fishing around this time of the year. As the weather gets warmer, you will also see Northern pikeminnows and largescale suckers in the shallow parts of the lake. Smallmouth bass have also become more abundant now after the discovery of their presence in the last several years.
Please remember that for lake fishing, if you are fishing from shore, you are only allowed to use ONE rod. If you are fishing alone in a boat, then you are permited to use two rods. Only one hook is allowed on your rod. Please note that single barbless hooks are required to be used at some lakes. You should note the daily quota of trout for the lake where you are fishing. Catch and release is required in some lakes, please check regulations.
Before heading out, please read the freshwater regulations in Region 2 first. For more regular updates, make sure you follow our Facebook page. If you witness violations, please contact the nearest conservation office or phone 1-877-952-RAPP (7277). Conservation officers can not attend all calls, but they do their best to catch those who do not choose to play by the rules.
Good luck and please conserve your catches!
Rodney Hsu
Webmaster, Fishing with Rod Production