Ross Lake, Skagit Valley Provincial Park
By Rodney Hsu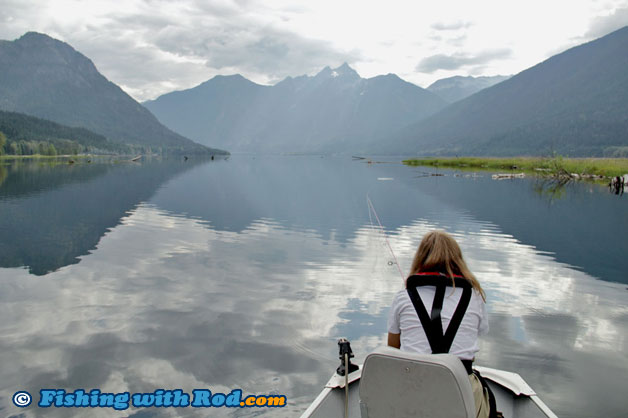 Ross Lake is a large water body where the Skagit River flows into near the US border at the Skagit Valley Provincial Park. The lake offers a short window of fishing opportunities between July 1st and October 31st, but it is an ideal location for those who wish to combine camping and fishing. The lake is relatively shallow and its trout and char are usually easy to entice. Combining these features with the breathtaking view, it is easy to understand why many from Vancouver choose this as their weekend destination.
How to Get There?
Ross Lake is appriximately 2.5 hours by a vehicle from Vancouver. To get there, travel on Highway 1 East and take exit 168 just before Hope. Once exiting from the highway, turn right onto Silver Skagit Road, which takes you to Ross Lake. The drive on Silver Skagit Road to Ross Lake is approximately 40 minutes long and majority of it is on a well maintained gravel road.
Fishing Season
Fishing at Ross Lake is open from July 1st to October 31st, and it can be consistently productive for bull trout, rainbow trout and brook trout.
Fishing Techniques
To fish Ross Lake successfully, a boat is required. The lake is fairly shallow for a large lake and plenty of snags can be found near the northern end where the Skagit River flows into. These snags provide excellent hiding spots for fish, so you should focus on fishing near them.
If you are using spinning gear, casting and retrieving a spoon or spinner is very effective. Your spinning gear should be rated light to medium, because fish in this lake can be anywhere from 1lb to 10lb. A small 1/8oz spoon resembles redside shiners found in this lake and it can work very well if fish are feeding aggressively on these minnows.
If you are fly fishing, micro leeches, stonefly nymphs, to larger minnow or sculpin patterns will all work well when fished with either a floating line or intermediate sinking line. If a floating line is used, the fly can also be used under a strike indicator. A 5 or 6 weight setup is ideal, but you may want to use a heavier setup if larger fish are around.
Important Notes
Before your first fishing trip to Ross Lake, please make sure you know the following information: