Logan Lake, Logan Lake
By Rodney Hsu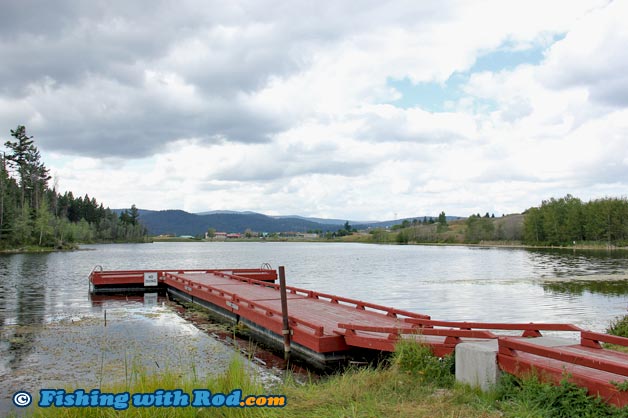 Logan Lake can be categorized as an urban lake because it is located at the heart of the town named after this lake. Don't be fooled by its status, as its fishing quality can in fact be just as good as other remote lakes in the area. Rainbow trout stocked at this lake can experience a rather rapid growth rate so fish in the 3 to 5lb range are not uncommon for skilled fly fishermen. This is also a family oriented lake due to the available campground, trails and fishing piers around the lake.
How to Get There?
Logan Lake is about halfway between Merritt and Kamloops. From Vancouver, there are a couple of ways to reach it. Drive to Merritt, take either Highway 97C or Highway 5 to Meadow Creek Road (Highway 97D). Once you are at the town Logan Lake, the lake is within minutes of driving from it. The lake can be seen from the highway. Once you reach it, just take the road to Logan Lake campground at the east end of the lake. Both camping and day use are available at this location.
Fishing Season
The target species at Logan Lake is rainbow trout. Two strains of rainbow trout are often stocked, which are Blackwater and Fraser Valley rainbow trout. Fraser Valley rainbow trout are usually stocked if the lake has experienced a winter kill because this strain can gain several pounds after one season due to its growth rate. Logan Lake can be fished year round. Ice fishing is available during the winter months. Fly fishing is best in spring and fall, but summer can also be good at times if good hatches are happening.
Fishing Techniques
If you do not have a boat and want to fish at Logan Lake, this is not a problem. There are two docks at the lake where you can fish comfortably. There are also trails around the entire lake and you can access some points from the south side of the lake if deeper spots are preferred. Due to the amount of weed in the shallow area near both docks, the best technique is float fishing. Attach a float to your line so your bait is suspended above the weed bed. The steeper drop-offs from trails are not as weedy so lure fishing and bottom fishing with bait can be just as effective. Dew worm is the go-to bait for most anglers, but you can also try krill, deli shrimp, salmon eggs and commercially prepared bait.
For boat anglers, there is a very nice boat launch where you can put in your craft of all sizes, but you should be aware of the motor restriction in place. This is a relatively shallow lake, the average depth ranges from 10 to 20 feet. An indicator used to suspend your fly is the local favourite because it keeps your fly in the feeding zone constantly. The fly should be 1 to 3 feet above the lake bed where chironomid and other invertebrate emerge from the mud. With that being said, you should vary your depth to find out where the fish are feeding. Chironomid, blood worm, scuds, leeches are all popular patterns that can produce, depending on what fish are feeding on. To improve your success, look for what's hatching while you are fishing and perform throat pump on fish that you catch.
Ice fishing is done in the winter months. This is primarily a bait fishery. Krill rigged on a sliding weight setup can be deadly.
Important Notes
Before your first fishing trip to Logan Lake, please make sure you know the following information:
You must have a valid British Columbia freshwater fishing license.
Logan Lake is located in Region 3 in the British Columbia freshwater fishing regulations.
Logan Lake's access is from a campground so please respect other users by not littering and parking your car at the designated area. This is a pretty small lake so you should also respect other anglers' space by not anchoring too close to other boats.
Like other small lakes, winterkills sometimes occur so it is best to check with your local tackle stores before planning a trip to Logan Lake.