Eagle River, Griffin Lake to Sicamous
By Rodney Hsu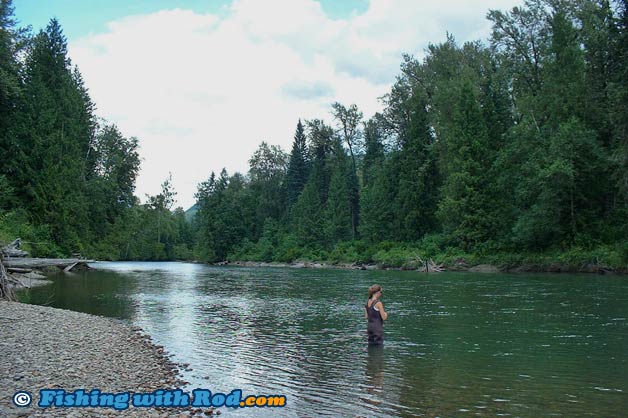 Originated from Griffin Lake, Eagle River is a small tributary of Shuswap Lake. The fishable lower stretch of the river runs from Taft to Sicamous before draining into the lake. It meanders by Trans-Canada Highway, making fishing access very available for travelling anglers who wish to wet a line when visiting the area.
How to Get There?
To get to Eagle River, simply drive to the town of Sicamous. From there, travel along Trans-Canada Highway. The river is mostly within sight from the highway and you can find access from it quite easily. In areas where the river strays away from the highway, you can find smaller access roads to it. While hotel accommodations are available in Sicamous, which is a very popular summer holiday destination, Yard Creek Provincial Park has excellent campsites for those who wish to pitch up a tent or park the RV for the night.
Fishing Season
The main fishing season at Eagle River is summer and fall. Your target species are trout and char, specifically rainbow trout and bull trout. Salmon fishing is prohibited year-round. In the summer months, you can often see chinook salmon staging in the lower section of the river. These fish, which are getting ready to spawn, should be left along. In the summer months, trout and char can be found feeding on insects at different stages. Once salmon enter the system and start spawning, trout and char switch their diet to eggs.
Fishing Techniques
Trout and char in this river is typically in the small size during the summer months. Larger fish might be encountered in the fall months when salmon are spawning. Light tackle can be very enjoyable when used for this system.
If you are spincasting lures, simply use a ultralight spinning rod and reel. Your rod should be 6' long, so you can carry it easily while walking along the river. The reel should be spooled with 6lb test line, perhaps more if there are bigger fish around. For rainbow trout, a tiny spoon or spinner often does the trick. For bull trout, larger spoons may be more appealing. Quite often these trout and char will follow your lure closely without striking until it reaches the shallow water.
If you are fly fishing, a 4/5wt should be adequate enough during the insect-based fishery. Small nymphs and dry flies should do the trick for rainbow trout, while larger streamer patterns are good for bull trout. For fall egg-based fishery, a single egg pattern fished with or without an indicator behind spawning salmon can be very deadly. Once these trout and char start keying onto eggs, they will not hesitate to bite when an egg drifts by them.
Important Notes
Before your first fishing trip to Eagle River, please make sure you know the following information: