Published on June 21st, 2009 by Rodney
Most of the fishing that I have done in Denmark has been from shore. There is not a shortage of shore access. The entire coastline is opened to the public and can be fished year-round. Both public and pay-per-day access of lakes and streams are also quite abundant. Boat fishing is available, but most Danish anglers do not own a boat, or a car.
Private transportation is a luxury expense that most choose not to have in this country. Driver's licence, vehicle and gasoline are incredibly pricey. It is the government's way of encouraging citizens to utilize public transportation and the well-developed network of cycle lanes. It is a win-win situation. Getting around this city is convenient by train, metro, bus, bike and foot. In fact, travel time by these methods is often faster by car.
The disadvantage of this arrangement is that recreational options become limited. A car is needed to transport a boat. A house is needed to store a boat. Most people do not have this requirement, so alternatives are needed.
We decided to join a local fishing club, which is affiliated to several other clubs. For 400 Kroners (roughly around CAD$80) per year, one of the benefits that members have is the usage of club boats that are docks at many lakes in the outskirts of Copenhagen. No addtional fee is required, we simply have to book the boat on the internet and purchase a key that works for all of the boats.
We decided to give this a go by booking a boat at a lake that offers fishing for northern pike and perch today. Nina and I were joined by her brother Rune, who has decided to revive his childhood hobby after a long break.
Our mellow morning start brought us to the lakeside dock at 9:30am. The lake was flat calm, finally after two weeks of wind and rain. Our boat was a 12 footer, which could easily fit three or four people. Rowing such a large boat was not going to be pleasant, especially for someone whose only preference is an electric motor!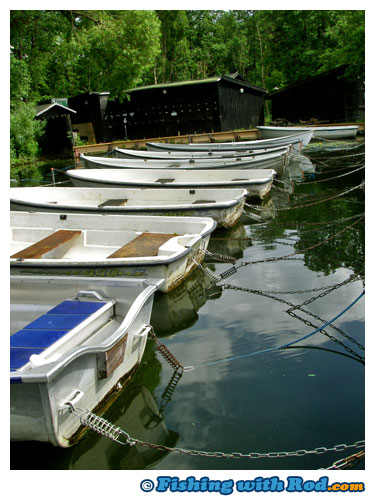 Club boats, ready to be used. Accessories are kept in the club shed.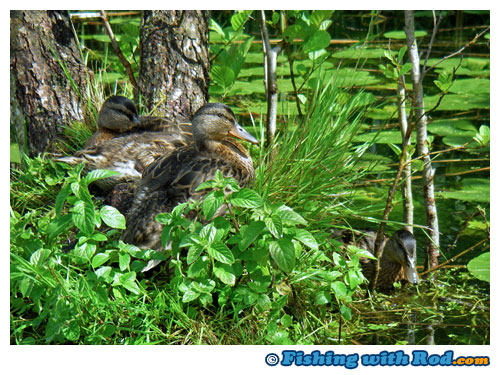 A duck convention.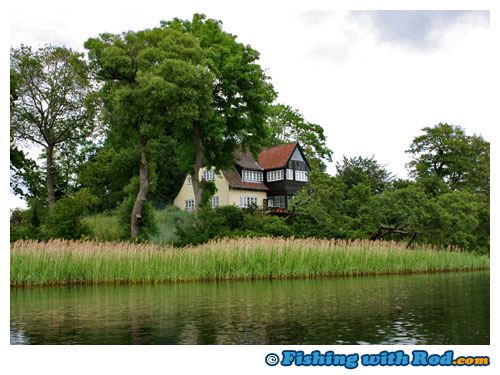 A typical Danish house by the lake. This property is actually on a tiny island in the middle of the lake.
Being new to the lake, we did not have any knowledge on where we should be fishing. This is especially difficult when one lacks a depth finder. I had looked at a few mapes of the lake prior to the trip, so I made a few suggestions on where we should fish.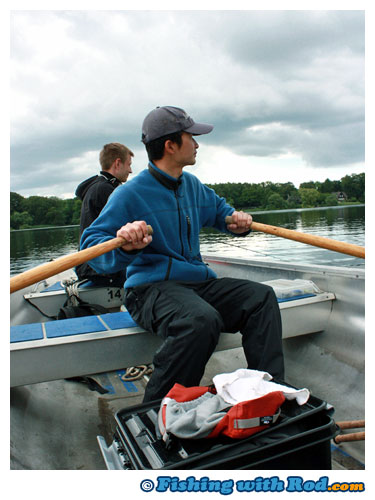 Seeking for hot spots.
We anchored not too far from the shoreline where it is densely covered with reeds. An ideal pike habitat perhaps? Our choices of weapon include poppers, deep-diving wobblers, spinners, spoons and jigs. These ensure that all depths could be covered. After playing with large lures and not finding any responsive pikes, I switched to the light spinning rod with a 1/8oz green spinner that has brought me many fish in the past. After a few casts, I had a good tug and hooked onto a fish. The tug was very brief. The fish was on for a couple of seconds, swam away freely before I shouted "There's a fish!"
The rest of the morning was rather uneventful beside a couple of ducks that followed us around. We rowed and anchored numerous times with no other bites, but managed to learn the depths in the meantime. Once the drop-offs were located, we could fish with slightly more confidence.
In the afternoon, we decided to work out way back through the deep sections to the original spot where I had lost a fish. Instead of covering waters that are only two or three metres deep for ambushing pikes, we began fishing in much deeper waters where fish maybe hiding from the sun. I rigged up a jighead with a rubber tail for Nina, so she could dangle the rod up and down without paying much attention. Perhaps this would grab the attention of some schooling perch.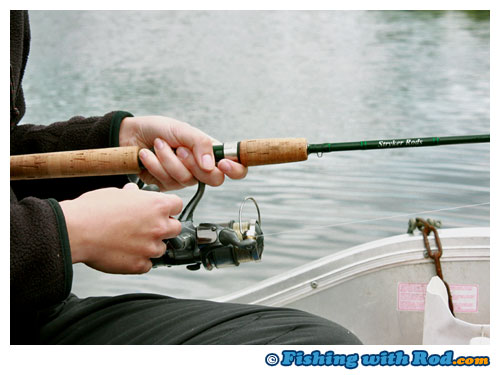 Beside spinners, plastic baits are known to work very well for European perch. Jigging, drop shotting are North American techniques that have been successfully adopted by trophy perch anglers in Western Europe. This was in fact our first attempt of using them when targeting perch.
After being blanked for several hours, it was understandable that Nina was becoming bored, but she continued lifting the rod up and down. I watched her rod intently while retrieving my spinner. Suddenly there was a noticeable bend on her rod when she lifted it.
"That's a fish."
"No it's not, just weed."
"No really, that's a fish.", I said as the rod kicked a couple of times.
The more Nina retrieved, the more delighted she became. It was indeed a fish, a rather nice perch. It surfaced quickly after some struggle. Nina reached out and firmly grabbed onto its mouth.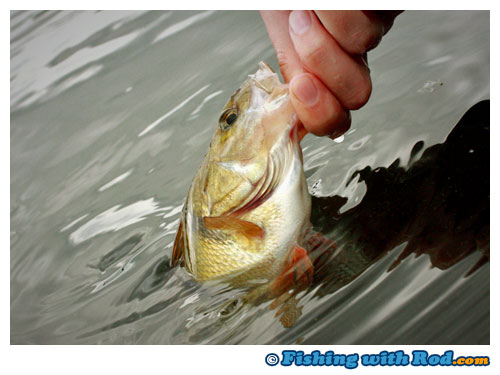 First fish of the day!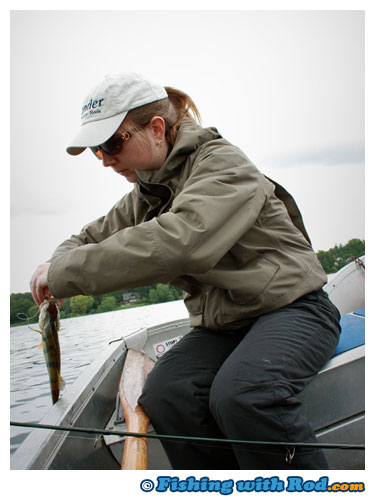 Getting a good grip.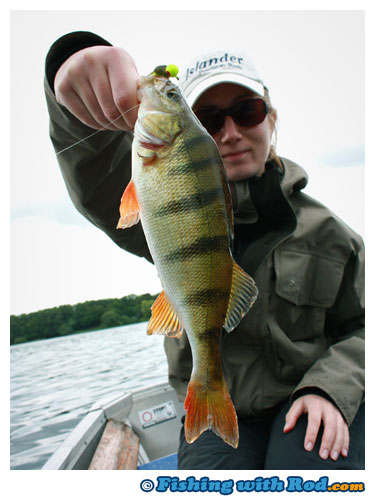 An European perch – A humped green body, red fins and black stripes.
No long after she released her catch, a rainstorm creeped in without much warning. The forecast indicated sunny for the entire day, but I have learned that anything goes when it comes to the weather in Denmark. Nina had my Goretex jacket, but no waterproof pants. I had a pair of Goretex pants on, but the upper body was only covered by a fleece jacket. Both of us were becoming partially wet. Meanwhile, with only a pair of jeans on and a regular jacket, Rune was fully wet. Despite of this, we continued fishing. The first fish always brings the bug that does not wear off very fast.
We repositioned ourselves to my lucky spot. Both Rune and I continued tackling the area with our small spinners while Nina was confident that the jig is the ticket to more fish.
It only took a few minutes before Rune quietly announced that he had a fish on. It was a perch, but smaller than Nina's catch.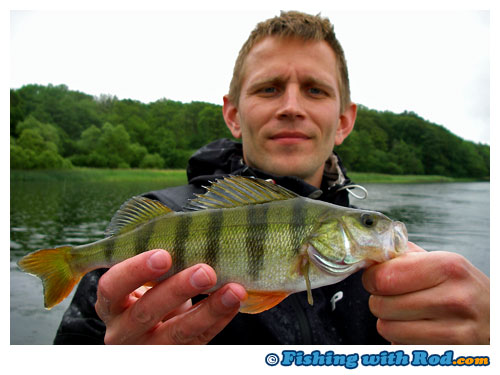 Wet but satisfied.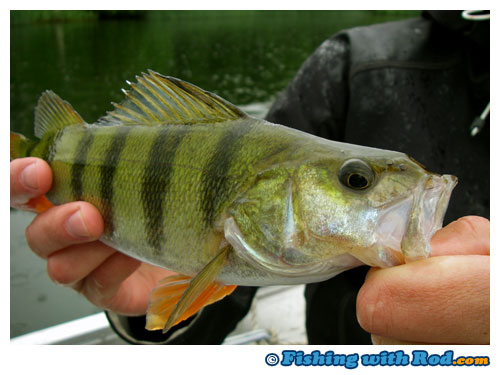 Now that the siblings had caught their fish, my chance of connecting with one was becoming slim because the rain was not easing off. We fished for another ten minutes before both wanted to call it a day. I reluctantly agreed. After two weeks of fishing without a single catch, it was becoming rather frustrating.
Although the fishing result was not spectacular, the boat trip presented many new potentials for future outings. The same boating options are available at several other lakes, which I look forward to explore in the future. The lack of boat ownership requires planning of an outing much ahead of time, but it eliminates the challenges of storage, maintenance and other hassles.