About Fish for the Future

The goal of Fish for the Future is to promote sportfishing and other outdoor activities to youth and families in British Columbia. Each year, we invite families across the Greater Vancouver Region to participate in our hands-on activities.
You will be able to take part in numerous fun tasks such as fishing for local fish species, flycasting, fly tying, fish & bugs identification, and many other games. It will be a family oriented event that informs the general public of the importance of conservation and respect.
Fish for the Future is located at the scenic and peaceful London's Landing in historical Steveston Village.
2013's Event Details

Please note that 2013's Fish for the Future has been cancelled. Our apology to all participants who had wished to attend the event. We willbe back in 2014. See you then!
In the meantime, if you have questions about fishing in the Fraser River, or in the Vancouver area, you are welcome to send us an email at info@fishingwithrod.com.
Thank You!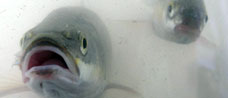 Our 2012 event is now over and we thank you very much for being part of it! Around 1,000 visitors took part in this year's Fish for the Future. We wrote up just over 250 juvenile saltwater fishing licences for kids under the age of 16.
Many thanks go out to our dedicated volunteers who continue to make this event possible. We also thank our sponsors and community supporters for funding and promoting the event.
Photographs from 2012's event will be available on our Facebook page. If you would like more fishing information, please go to our website.