Published on June 24th, 2014 by Rodney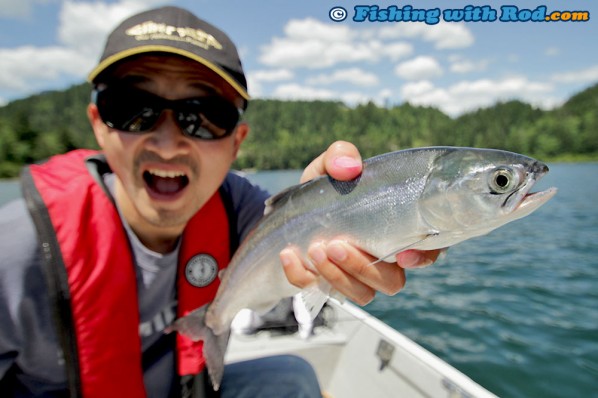 If you have been following this website for awhile, then you'd know that I am not discriminatory when choosing my target fish. It can be giant sturgeon in the Fraser, chinook salmon in the ocean, or tiny peamouth chub in a slough. With the appropriate tackle, fishing is always fun and every target species has its own challenges! This is why I always get excited when the opportunity of catching some 14 inch kokanee becomes available during this time of the year, which can really baffle my fishing friends.
Beside trout, one of the more commonly sought-after freshwater gamefish in British Columbia is kokanee. These landlocked sockeye salmon, are confined to lakes due to geographical barriers such as landslides. The barriers prevent them from migrating into the ocean so they carry out the same life cycle in lakes. Prior to spawning, they are typically up to a couple of pounds large, bigger in some of the productive interior lakes.
Yesterday my friend Kitty and I ventured out to Kawkawa Lake in Hope, which is one of a couple of lakes in the Lower Mainland where kokanee fishing is available. Kawkawa Lake opens for kokanee fishing on March 1st, but by June these fish can gain a couple more inches in length as they constantly feed prior to spawning in September. A three year old fish is usually around 14 inches long, but occasionally you can encounter a four year old fish which is 16 or 17 inches long.
Because the fish are not exactly huge, paying attention to small details can translate into success. Kokanee are known for their subtle takes. Unlike a rainbow trout, they nibble softly and detecting the bites is almost impossible if your tackle is too heavy. Prior to this trip, I had already been to the lake a couple of times earlier this month with minimal success. This was partly due to my rustiness after being away from this fishery for a few years, but I felt my tackle could have been modified to gain more hook-ups.
These fish primarily occupy the bottom of the lake in the summer. At 40 feet deep, it's almost impossible catch them on the fly so you are limited to a couple of options. Trolling is a popular method but I find it a bit dull and results can be hit and miss. The other option, which involves finding fish on the sounder before anchoring and bait fishing on the bottom, seems to yield better results.
Because the fish are swimming at the depth of 35 to 40 feet, I need to see every single bite as soon as it happens. An ultralight spinning outfit is the way to go. My favourite to date has been a 6′ long spinning rod rated 2 to 6lb with a thin tip such as a Daiwa Spinmatic Tuflite and a small spinning reel such as a Shimano Stradic CI4+ 1000FA. The entire setup is extremely light so I can perform those quick hook-sets.
Originally I have been spooling my reel with 4lb test Maxima Ultragreen fishing line, which is a fantastic line for casting and retrieving small lures. It's pretty thin, yet strong enough to handle medium size bull trout. With that said, it stretches like all monofilament line. This stretch means a slight delay on detecting those kokanee bites. I looked for alternatives and gave the new Maxima Braid a try this time. I spooled the reel with 10lb test Maxima Braid Ultragreen, which is thinner than its 4lb Ultragreen monofilament line. At the end of the main line, I used its 4lb test Fluorocarbon line. With the most sensitive setup available, we should have no problem catching these fish!
I've also made modifications to my hooks. The #8 hook seemed to be too small as many bites were missed in the past. The fish were pecking off parts of the bait which were not threaded on the hook so they never had a chance to be barbed. Instead of the #8, I switched to a #4 hook to see the hook-up rate could be improved.
Kitty has been a Learn to Fish crew at the Freshwater Fisheries Society of BC for a couple of months now. Since she has never caught a kokanee in the past, I invited her along so she could experience and introduce this fun fishery to her students. Our first trip in early June was a bust, so I kept the expectation low yesterday.
We arrived at the lake at 8:30am and anchored at the depth of 38 feet after seeing a couple of fish on the sounder. The bait of choice were krill, deli shrimp and single eggs. All were cured with Pautzke Bait's Fire Cure to give them that extra krill scent as an attractant. Within 10 minutes we could see the bites, the rod tips barely moved. Kitty missed the first one and I immediately had a bite right after. This is pretty common as the fish will move from one bait to the other if they are close by. I set the hook and was delighted to find the rod bending straight down. That joy was short lived as the fish popped off after a few seconds.
Although slightly discouraged, I was quite excited at the same time as early bites are always a good sign. We dropped our bait down again and the bites came after they were soaked for another ten minutes. Kitty missed her bites again while I managed to hook up. This time the fish stayed on firmly. As it reached the surface, it began skipping from one end of the boat the other, tangling her line at the same time. Just like sockeye salmon, kokanee produce lively fights. Kitty reached out with the net and scooped it up. It was a big fish! The measuring tape showed it to be 16 inches long, one of the rare four year old fish in the lake!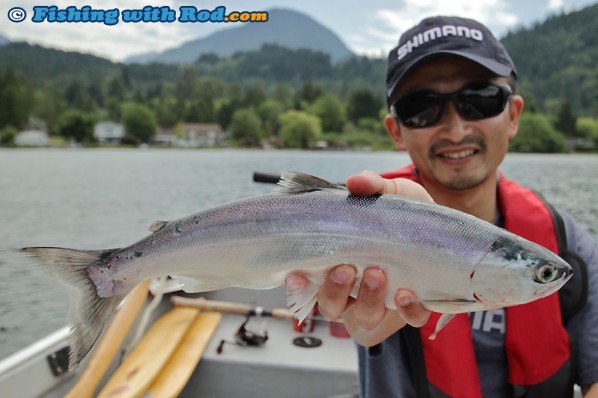 With one fish in the cooler after 30 minutes of fishing, we were off to a good start. The bites were not constant, but they were consistently returning once every ten minutes as schools of fish returned to our boat. Kitty managed to lose the first couple of fish she hooked, due to the loose drag and light hook-set. These are tricky fish to keep on the hook. The hook-set has to be precise and firm, yet horsing them in almost always result in losing the fish due to their soft mouth. To make it even more challenging, kokanee have a tendency to swim straight toward you once hooked, which makes keeping the correct line tension even harder.
After some adjustments, Kitty finally landed one fish, then another. It did not take too long to get a hang of it. From 9:30am to 11:00am, we were able to boat four fish while losing twice as many.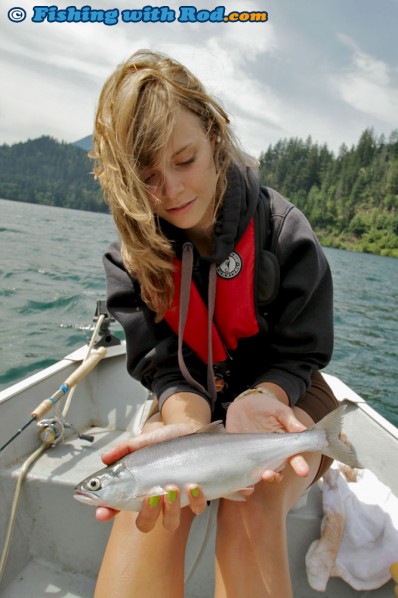 The bites tapered off at 11:00am as water skiing boats appeared on the lake. The constant waves made it much tougher for us to detect the bites. It wasn't until 2:00pm when we finally found some fish again after scouting out a few more spots. While the fishing picked up, so did the wind. Unlike the glassy surface in the morning, we had big chops pounding against the boat. Since the condition was not so favourable for detecting subtle bites, I decided to tie on a 1/16oz hammered Gibbs Croc spoon and jig it vertically near the bottom. To my surprise, it only took a few minutes for the lure to work. Kitty was also able to hook up more fish on bait. The lure seemed to be attracting more fish to the area so the two methods were working well together as a team.
We finished the day off with six beautiful kokanee in the cooler. It was a successful day. Not only did we catch more fish than what we had expected, I was reminded that there are always new lessons to be learned in every single trip. Kokanee fishing can be good throughout the summer months, so be sure to get out there and give it a go if you have a boat!