Published on June 9th, 2012 by Rodney
Our trip to Ruddocks Ranch last year gave us a tease on what this fishery can offer. When it comes to any new fishery, it really takes a few days to get a hang of what is going on. Last year we spent three days there and on the last day we were finally into some quality fish, but still not as big as some of the photographs that we have seen. This year, we returned for another three-day trip and were determined to find those fish in the heavier weight class.
Whether fishing is good or not, this area truly is beautiful. It's so remote, which is hard to believe since we are only three hour drive from Vancouver. The Fraser River Canyon makes you feel so incredibly tiny. The morning view from the ranch house can never get too old.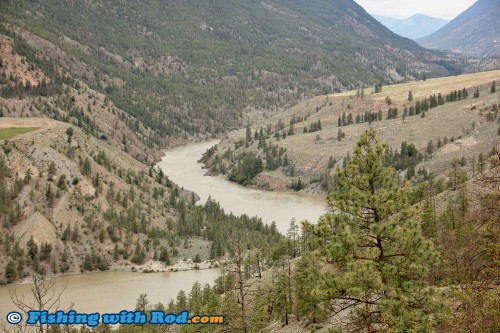 The drive to the lake is always an adventure because of all the animal encounters, even for late morning starters such as myself.  Last year we came across a black bear. This year we came across some young mule deer, which were just as curious as us. They paused and thought about coming toward us when I took some photographs of them.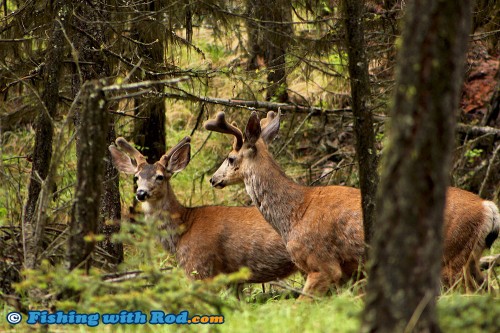 The lakeside wildlife is just as rich, when you pay attention. When the fishing is slow, it keeps this amateur photographer entertained.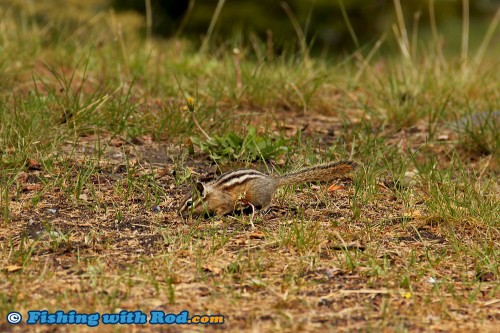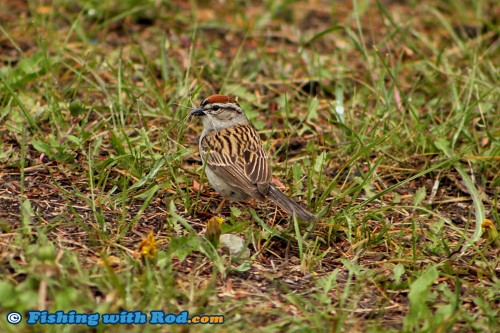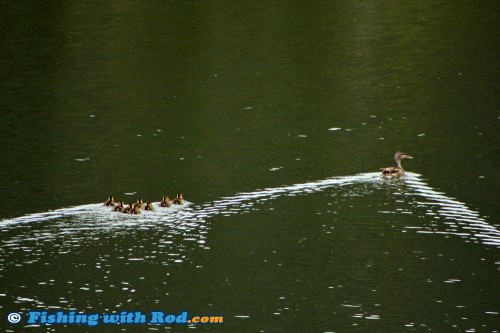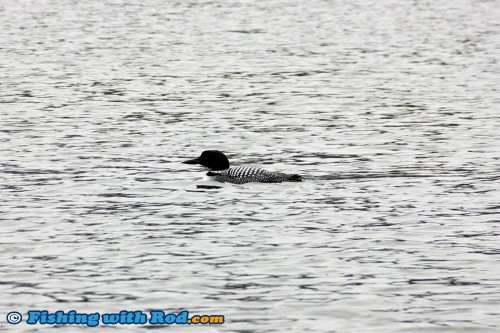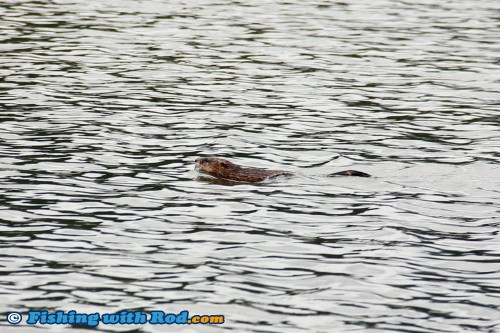 Our trip was once again challenged by the weather. The week before we were scheduled to leave, the forecast called for sunny days and I was of course quite excited. As the trip approached, sunny turned to cloudy, which turned to shower and eventually rain on the day we were leaving. The cool weather is never an ideal condition for lake fishing. It could turn the fish off completely and sitting in a boat that slowly evolves into a bath tub is no fun either. Nina and I brought along our good friends Carlo, Shane and Steve, who are all pretty experienced fly anglers. Steve is also a fish culturist so he was able to provide some knowledgable information on trout in this lake.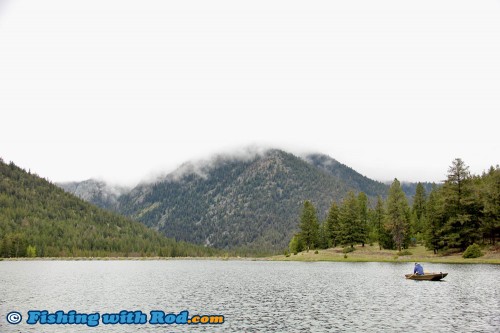 While it stayed cloudy, the forecasted heavy rain never occurred. We had the occasional drizzle, so fishing was quite manageable. As expected, the fish were moody. Chironomids were not really hatching so the bites were not consistent. We were able to get into the usual fish in the average size class (14 -18 inches) but the big ones were not really showing themselves. Despite of their smaller size, these fish fought as if they were twice as big.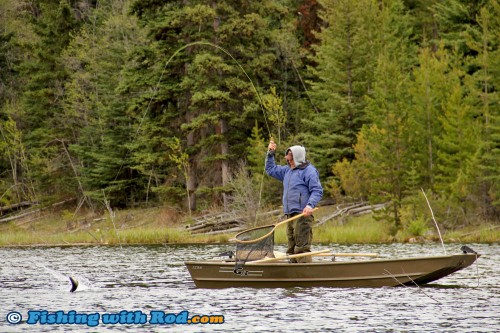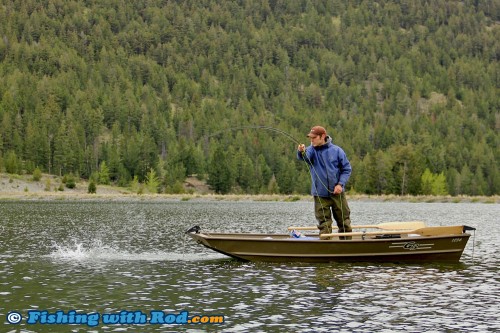 Day one ended with a lakeside dinner before returning to the ranch for some needed rest. Nina and I took our time to the lake on day two after seeing the low clouds and rain outside the window. We arrived at the lake at 11:00am and fishing had not been hot as expected, according to companions who started much earlier. Indicator fishing with chironomids was really slow so I decided to stick to stripping a wooly bugger, which seems to work most of the time when everything else fails. The result was pretty satisfying. By mid afternoon, we were able to find some beautiful rainbow trout.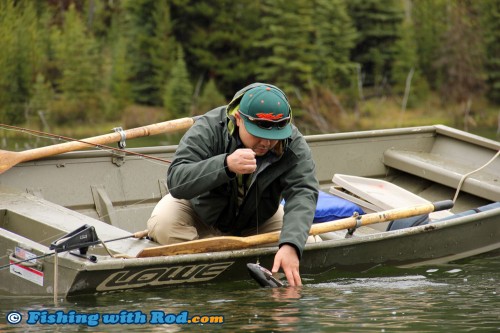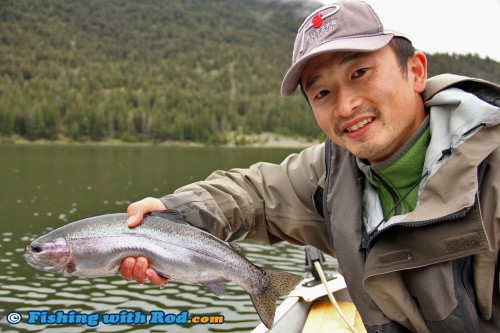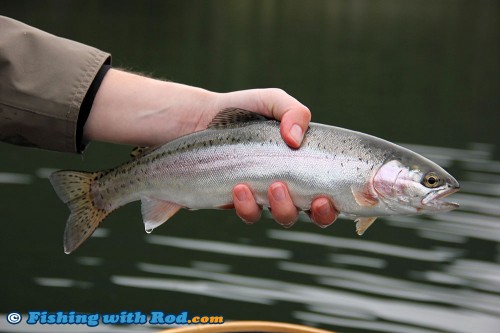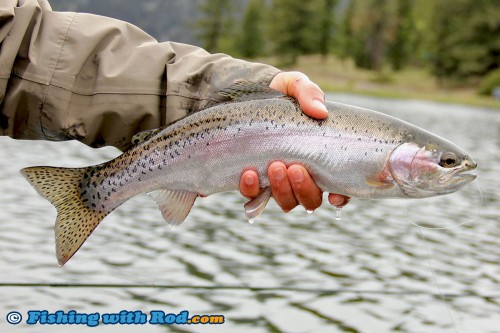 As the afternoon went on, we started seeing the odd much bigger fish surfacing. Carlo eventually had a big one taking him for a ride before spitting the hook. It was his last chance as he had to work on the following day.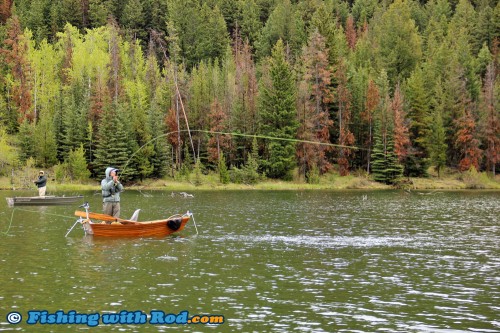 An hour after Carlo packed up, Steve and I both spotted a rather large fish feeding on the surface near a branch. I managed to shoot my fly out there first and after a few strips, this fish grabbed it without any hesitation. The kicks in the rod immediately suggested that this fish was in a different category. It took several robust runs and circled around the boat while I could only hold onto the rod. At one point, it dove under and the leader was caught up on an underwater branch, but luckily it swam its way out after a few seconds. When this fish surfaced, I could see that I was going to have trouble netting it. Steve quickly lifted his anchors and made his way toward me with his bigger landing net. With a precise scoop, I landed one of my biggest rainbow trout ever! Steve took his weighing scale out and weighed the fish with the net. The weight of the fish was just over 6lb. After a few quick photographs, I sent its way back so future visitors can also enjoy the same experience.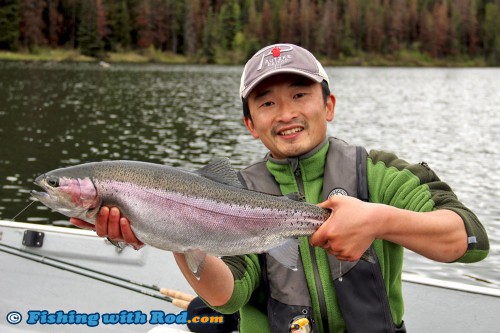 With one infamous trophy bow from Onion Lake finally under my belt, I was ready to pack up and go home! We finished the evening early but coming back to the ranch for some much needed rest. On our last day, I did not care much about catching the smaller fish and only hoped for another big, or bigger one! Nina and I started the morning late again and we did not miss much as the weather was actually cooler than the previous days. Shane and Steve both reports the absence of activities except a few small trout. We circled around the area where I had my success, caught a couple of tiny fish before catching the sight of another big fish. It was the exact same scenario. This fish made a big splash near the branch where I hooked the big one yesterday. I swiftly and quietly made our way over, position the boat so I could present the fly to it. The first cast was just too short, but the second cast was well within its range. After about 20 strips, I felt another hard take. Nina had the video camera running the entire time, so I will leave the rest of this story to the video feature that will be available later this summer!
Despite of this year's challenging condition, our visit to Ruddocks Ranch turned out to be another memorable one. While this is a private lake that requires you to pay to use, it can be well worth it. If you wish to fish with a group of close friends or family, then this is probably the ideal fishery for you. You can book the entire lake just for your group without being interrupted by other visitors. This leaves out the stress of getting the best campsites by a public-accessed lake and still being able to tangle with some high quality gamefish. If you would like more information, please check out Ruddocks Ranch's website.