Published on May 8th, 2010 by Rodney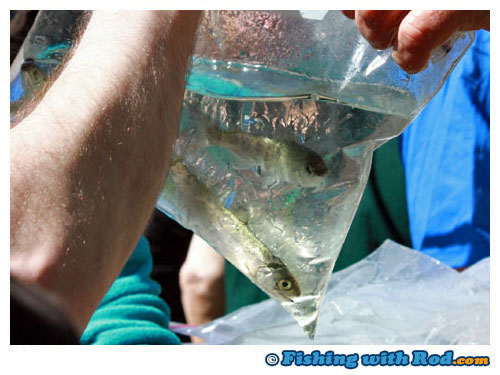 When the invitation to be part of this year's Great Salmon Send Off arrived in my inbox last month, I accepted it without much hesitation. Like the Fingerling Festival, this is another community based event that has generated plenty of interest among residents of Burnaby.
When this tradition started twenty years ago by local resident Jennifer Atchison, Stoney Creek, a tiny tributary of the Brunette River, was void of salmon. Today, spawning salmon can be seen returning each fall, thanks to countless hours of hard work by volunteers of the Stoney Creek Environment Committee.
Stoney Creek is just one of many streams in the Lower Mainland that are overshadowed by both residential and industrial developments. Each day, it faces threats from dewatering to accidental dumping. Unnoticed, its survival depends on programs such as the Great Salmon Send Off. The goal is not just to revive the salmon runs that once exist, but to make sure visitors become part of the solution at the end of the event.
At 11:00am, the release began when Fisheries and Oceans Canada's community advisor Maurice Coulter-Boisvert opened up the holding tank. Several thousand juvenile coho salmon circled as they emerged from the dark, eager to start their long journey. Hundreds of parents and kids lined up patiently to receive their bag of fish. Once given, they were carried down to the edge of Stoney Creek where they were set free.
Our participation today included setting up a flytying workshop where each kid had a chance to tie a fly with the assistance of my friends Shane and Carlo. We were pretty overwhelmed by the amount of enthusiasm and interest! If you did not have a chance to tie a fly or pick up our fish identification cards, don't worry because we will be at several more events in June and July.
More photographs from today's event can be viewed on this page.