Published on October 12th, 2009 by Rodney
The Tidal Fraser River finally opened for coho salmon fishing on Saturday October 10th (see notice). This is a fishery that I anticipate each year, because it is so close to home and the fishing can be spectacular. Beside coho salmon, it is not unusual to encounter other species too, such as chinook salmon, chum salmon, cutthroat trout, bull trout, northern pikeminnow and event a stugeon or two. Not knowing what I may connect on the next cast makes fishing the Tidal Fraser River in October and November very appealing.
While bait such as roe can be used, my preferred method is to cast and retrieve spoons and spinners. Not that I think it involves more skills to catch them on hardwares than bait, I simply find it hard to sit and stare at a rod tip for a long period of time.  I also find that bites are not as easily missed when retrieving a lure.
My choice of lure is a 1/8oz spinner with a size 3 green blade. This lure has been especially good to me when fishing for bull trout, cutthroat trout and jack coho salmon. I arrived at 11:00am on opening day, two hours before the tide peaked. In the first two hours or so, I managed to miss two bites while nearby roe anglers had a few bites and managed to land one jack coho. Once the tide peaked and started dropping, I missed another bite, followed by a 35cm bull trout that did not get away fast enough at around 2:00pm. At 3:15pm, the tide had dropped two feet and I had another quick tug. I hooked, watched the rod bent and for the first five seconds the fish fought sluggishly. I assumed that it was just another bull trout and retrieved slowly as the fish was being towed in. Suddenly, it leaped straight out of the water and I could see the 6lb or so silvery body was in fact a coho salmon. The fun soon began as the fish bolted and took several powerful runs like all ocean fresh coho would do. It must have taken about six runs before I guided it into the net. Not a bad opening day indeed! It has been two years since I landed an adult coho salmon in the Tidal Fraser River. Last year, a dozen or so outings only yielded a hatchery jack coho that I managed to drop in the water after bonking it.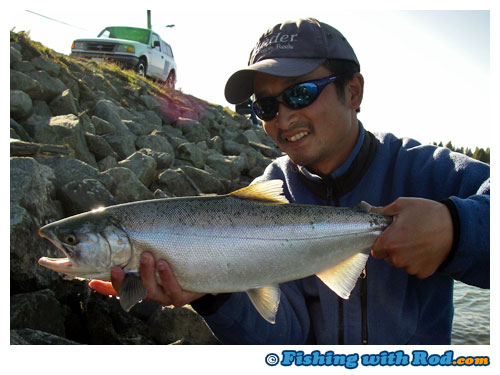 This coho was a wild fish. Just about all the scales are intact, the body was very deep as it should be since it just entered the river. A quick photo and we sent it back to the river so it is now on its way into one of the valley tributaries.  Hopefully this is a sign of many more good days to come in October.
I returned on day two to hit the same tide, hoping for coho number two. There were more anglers, either spincasting or plunking with roe. This is fine, as the Tidal Fraser fishery always has a relaxing, friendly atmosphere. More anglers also keep each other motivated if there are sightings of fish. Day two was unproductive for me beside a tiny trout that greedily grabbed my 1/4oz spoon. Others were more successful, the odd jack coho and bull trout were landed. The highlight of the day was the large silver coho in the 10 to 12lb range that one angler was lucky enough to connect with.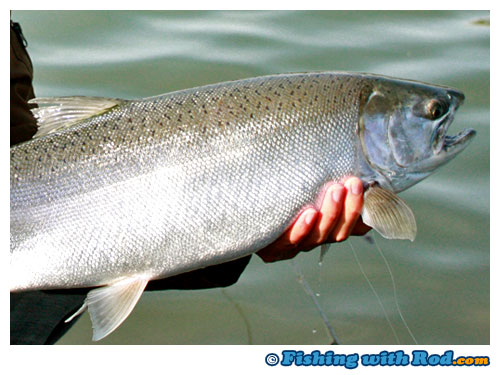 Day three's weather was much more tolerable. It was not as windy and the overcast sky was ideal for coho salmon fishing. I arrived around Noon to find Mike and Andrew already patiently watching their bar rods. They reported many fish rising when they arrived at 10:30am but it had been quiet since.
Even though the update was not that exciting, I was quite confident that we would find some fish. Unlike streams, fish are constantly on the move in the Tidal Fraser River so the fishing result can change by the minute.
Sure enough, I immediately felt some taps after sending out my little green spinner. Not long after, I connected with a jumpy 12″ cutthroat trout that swam into my net very willingly. I was quite excited, because for awhile now I have been attempting to collect DNA samples from Tidal Fraser cutthroat trout that the hatchery wants. A quick snip, a measurement and a photo, it was time to send it back to the river.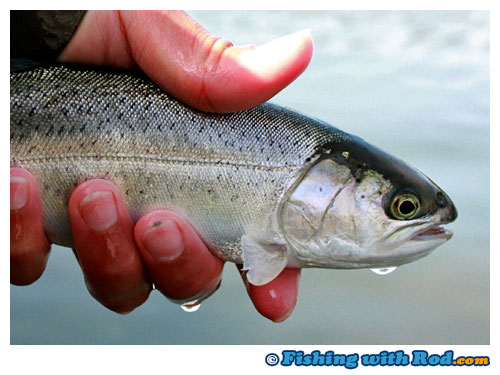 Silver cutthroat trout can be common in the Tidal Fraser in October.
As soon as I released my fish, Andrew felt some strong bites on his bar rod. He forcefully set the hook and the bend suggested a rather large fish was at the end of his line. The pulls seemed very unsalmon-like as it stayed in the deep for a long time. We put the net down and began speculating. Perhaps it is a sturgeon? The fight went on for ten more minutes before the fish emerged from the cloudy water. It was indeed a white sturgeon! It took awhile to bring in the four foot long fish on 15lb test tackle, but Andrew did it perfectly. Without gloves, Mike grabbed onto its tail, hoping that the sharp scutes would not cut his hands.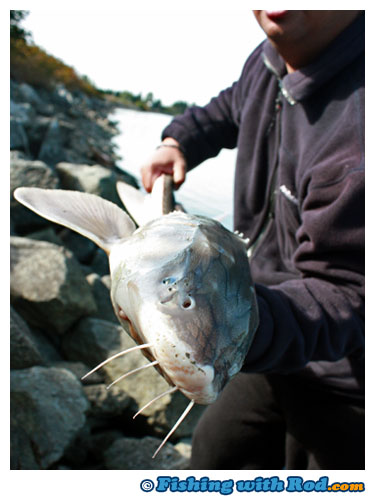 A surprising catch!
It's unusual to catch a white sturgeon when fishing for salmon with roe, but it's not impossible. The area is usually too shallow for sturgeon to swim in, unless you cast further out like what Andrew did.
Once everything settled down again, I returned to my spinner casting. Once again, it did not take long before I connected with another fish. This time, the catch was a bull trout. As I was collecting a sample from it in the net, an angler had come down and made a cast nearby. He immediately connected with another cutthroat trout! There were definitely some feeding fish around.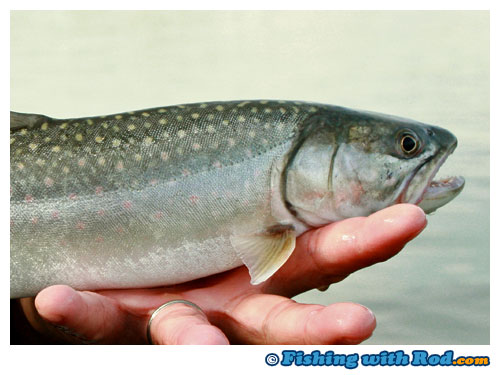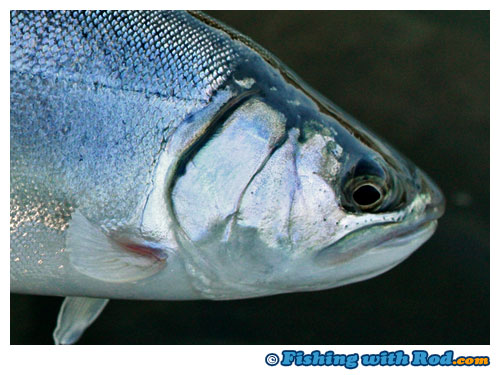 While these fish in the 12 – 16″ range are no trophy coho, I rather catch some of them than catching nothing, especially on light tackle.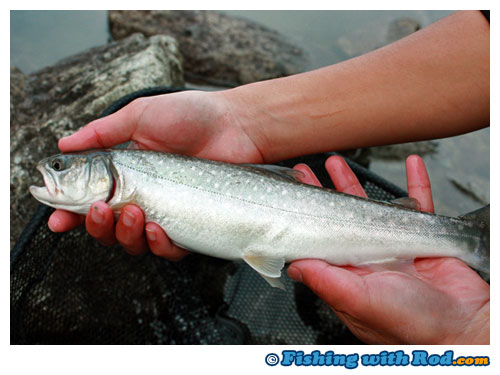 The rest of the afternoon was just as exciting. Andrew managed to land another white sturgeon. Carlo joined us and managed to be teased by several coho salmon that decided to only stay on his line for no longer than two seconds. I added one more to the species catch list, a beefy northern pikeminnow that has not felt the arrival of winter yet. A few chum salmon could be seen rolling as the tide peaked. This is a very good sign, because there have been some worries that the Fraser River chum salmon return seems either low or late.
The Tidal Fraser River never disappoints. This Thanksgiving Weekend has resulted in three days of memorable fall salmon fishing.