Published on February 22nd, 2009 by Rodney
The weather didn't look so appertizing today, after so many sunny days that we had this month. I still talked myself into heading out for a few hours, it just wouldn't seem right if I did not fish on my birthday. The wading jacket came out from the closet again and off I went to Garry Point at 2:30pm, just before the tide peaked.
Yesterday surface action had me tossing around the idea of using fry patterns just in case those were in fact what they were feeding on. I threw some fry patterns from last year into the box, just in case the big ugly leech did not work.
A couple of fish rolled once again just before the tide peaked. I missed a couple of hits, but overall it was a rather slow but relaxing day. At 5:00pm, just before I was ready to pack up, one bull trout decided to take the fry pattern just below the surface. I saw a big flash in the water as soon as I hooked it. It didn't seem bigger than the other ones that I have been catching, but it put up the strongest fight out of all the fish in the last several days. It took a few minutes, but it was not a problem on the 6wt rod.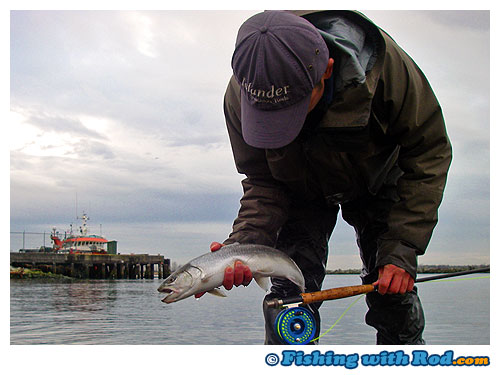 Once I released it, it was time to call it a day as I was pretty wet and cold. It was a good birthday present from Mr Fraser.