Minnekhada Slough, Minnekhada Regional Park
By Rodney Hsu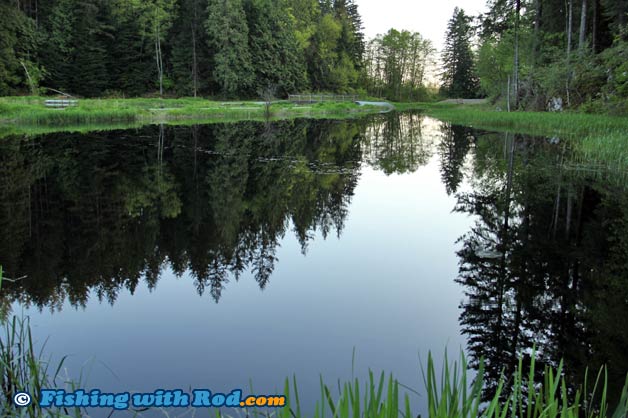 Minnekhada Slough is located in a nature park northeast of Coquitlam. Minnekhada Regional Park is over 150 hectares large and it is the perfect destination for hikers, birdwatchers and nature lovers. The sloughs inside the park are inhabited by two species - Largemouth bass and black crappie. If you want to try a different fishery other than trout, then give this waterway a try in the summer.
How to Get There?
Minnekhada Slough is at Minnekhada Regional Park. This nature park is in northeast of Coquitlam. To get there, travel north on Coast Meridian Road from Lougheed Highway. Turn right onto Victoria Drive, which turns into Quarry Road and leads you to the entrance of the nature park after ten minutes by vehicle. From Vancouver, it takes approximately 45 minutes by vehicle.
Fishing Season
Largemouth bass and black crappie become active in Minnekhada Slough around early spring, depending on how warm the weather is. They can be caught throughout the summer months until the weather starts cooling down in October.
Fishing Techniques
Largemouth bass and black crappie are both highly aggressive predators, which hide in structured waters and make sudden attacks on their prey. Although they can be caught quite easily by using dew worm under a float, there are more challenging and fun ways to target these species. Small spinners and jigs can connect you with plenty of fish regularly when cast toward weeds and other underwater structures. If you are looking for larger bass, then try using much larger lures such as poppers and large jigs. Slow your presentation down and make sudden stops. These fish often strike during pauses of your lure retrieve. An ultralight spinning outfit is adequate enough to handle these fish and much more enjoyable to fish with than heavier tackle.
Fly fishing can be just as effective. A 5 or 6wt is ideal for largemouth bass, while a lighter setup is best for black crappie. Use a floating line as water is not too deep. If you need your fly to reach deeper water, use a longer leader and let it sink longer. For wet flies, wooly buggers and similar nymph patterns usually do the trick. Surface poppers can also be excellent in the evening time when fish often strike near the surface.
Important Notes
Before your first fishing trip to Minnekhada Slough, please make sure you know the following information: